As my eyemask indicates, I am dreaming of Paris. and London. Almost every night.
Some of them are happy dreams, but most are anxiety driven. I can't count how many times I've missed my flight, in my dreams.
I will probably triple-check, times eighteen, my passports, etc., in preparation for this trip across the Pond. because when, in Dreamland, if I am on time for my flights, I discover I am at the airport and don't have my passport. Or tickets, or money.
Those of you who've done a lot of international traveling are probably past that, but it's my VIRGIN trip. (And I'm also flying Virgin, for one of the legs, how's that for irony?)
I am doing several things every day to prep. Last weekend, I cleaned out my phone, freed up 6 G of space. Practiced my French, although I am not sure all of the lessons will be applicable.
I hope not all of the lessons will be applicable. Because THIS is not happening.
It sounds like a ransom demand. Are there roving cheese-and-chocolate bandits in Paris? Stay tuned.
I really don't know where to go with this one.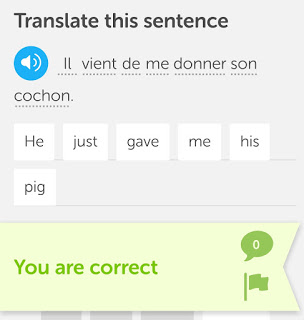 Is this a thing? Is there a polite way to say, "Thanks, I don't want your pig"? [Merci, je ne veux pas votre cochon]?
This one, however, is spot on.
So excited to be meeting Taron and Rachel Medhurst and Harper Miller and Kay Blake and maybe, Skye Jones, on this trip.
Speaking of authors, though I won't be seeing her on this trip. I was pleased and honored to have my dear friend Kim Townsel do an extensive video review of my memoir. Also, I was surprised at the parts that most resonated with her. That has been my experience so far with readers, that some parts really struck a chord… and others fell flat.
(Psst, Kim has an entertaining and informative YouTube channel, you should totally subscribe.)

And as I am beginning to pack, the question of WHICH tiara to take, is still hanging in the balance.
Do you have tips for international travel – and getting rid of pre-trip nightmares?
Merci beaucoup.