Sometimes you can get so weighted down with old ideas, there isn't room for any more.
A few eons ago, I started collecting buttons. A little while after that, I got the idea to affix them to an old T-shirt.
Time went on, and not only was my old shirt tearing to shreds, there were buttons with slogans that had also not worn well. Ideas that were screaming at each other. Otherlooked milestones, like hitting 200 at the bowling alley (so what, I'm still proud of it!) and the one gallon Red Cross marker were hidden  under other stuff.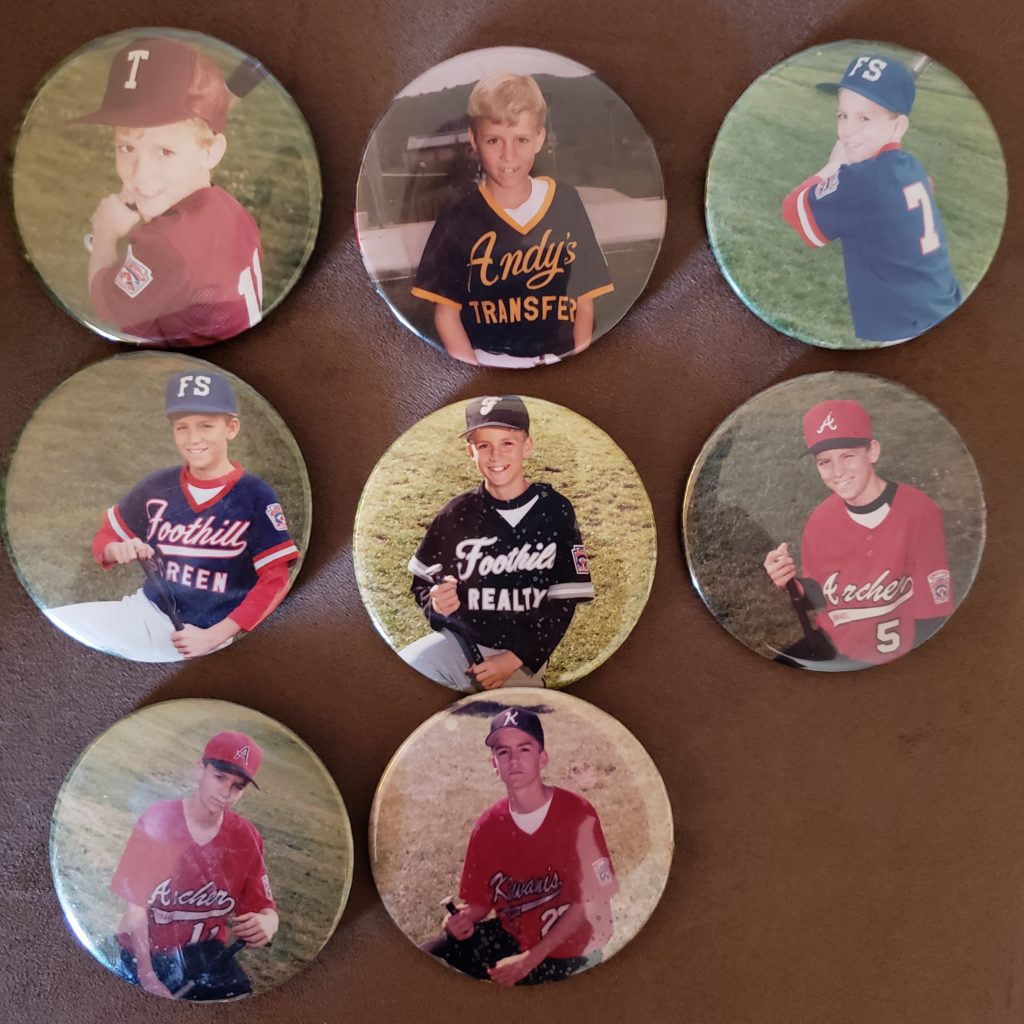 All my son's baseball buttons were staying, of course. So interesting to watch the transition from eager little player to the "too cool to smile" teen age.
Then the decorative pins. These I winnowed down easily.
And then the political pins, some from eons ago, and some just this summer. Couple of these went away, though I couldn't part with the Noe one.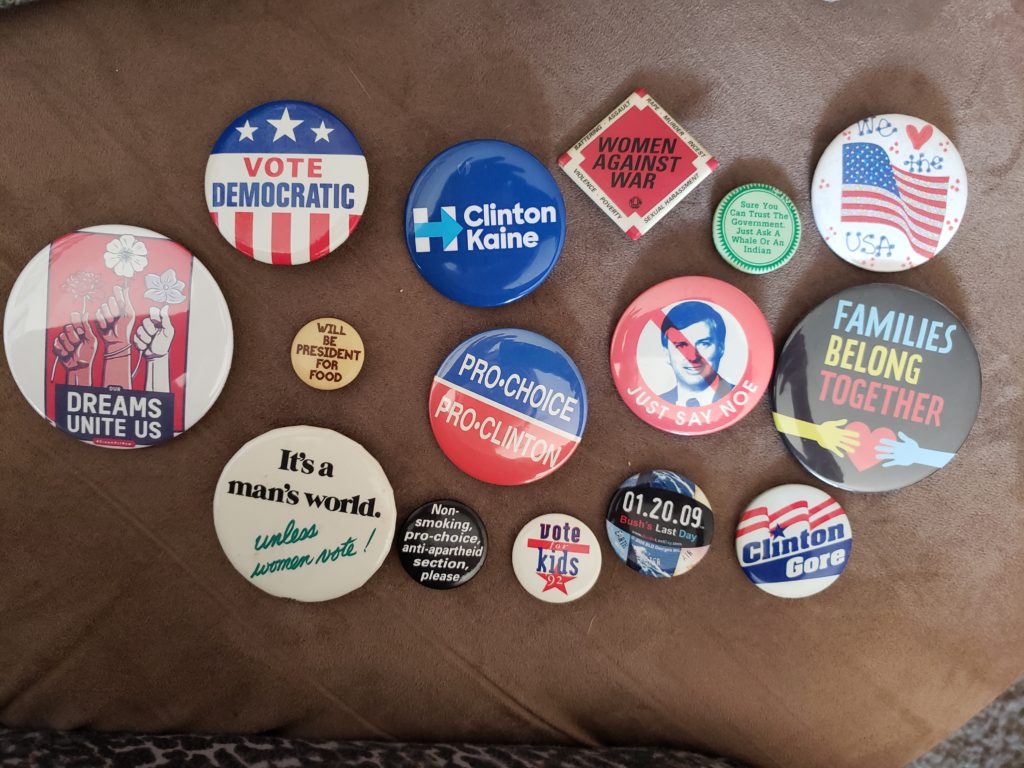 And, so much snark! But how much snark do I really need?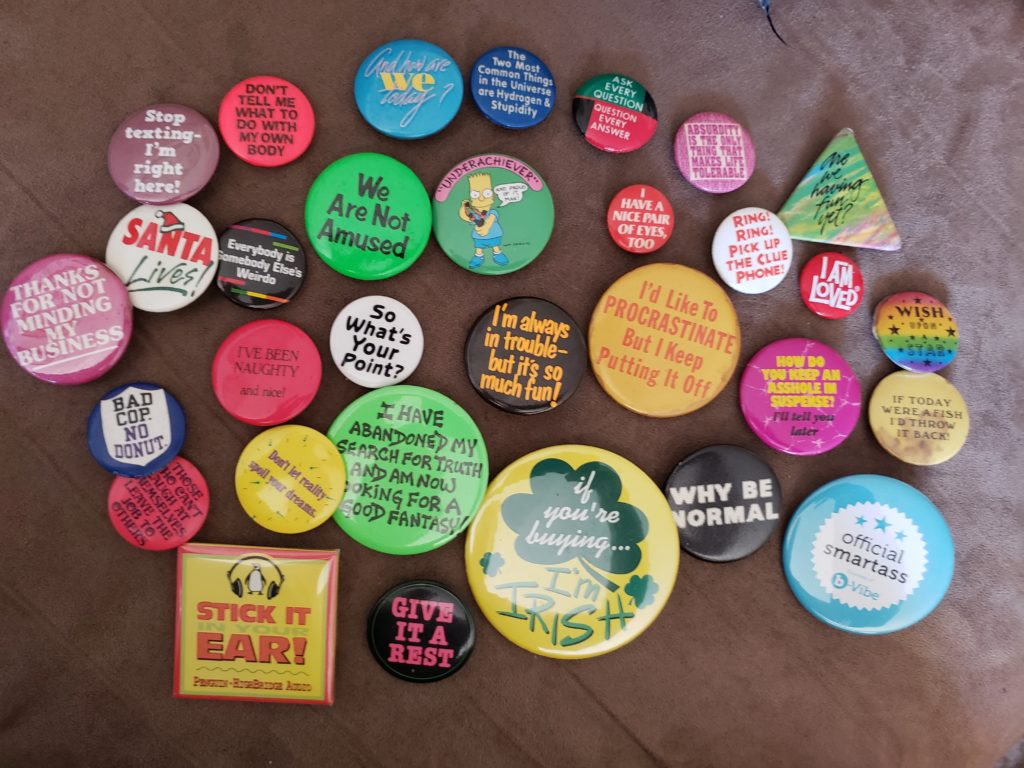 I really don't need the more angrily edgy ones. When the world is going hard on us, perhaps a better technique may be, going softer, kinder on it.
Though I couldn't give up ALL my snark.
The pins, below, all went away, except for the one about naked men.
Yes, I am angry at the patriarchy, and there are things I can and am doing with my anger, but wearing provocation on my breast, probably not the most effective approach. Also, in the thought-process of "don't reinforce a negative," bitching about being broke is probably not helpful to my life. Bye bye!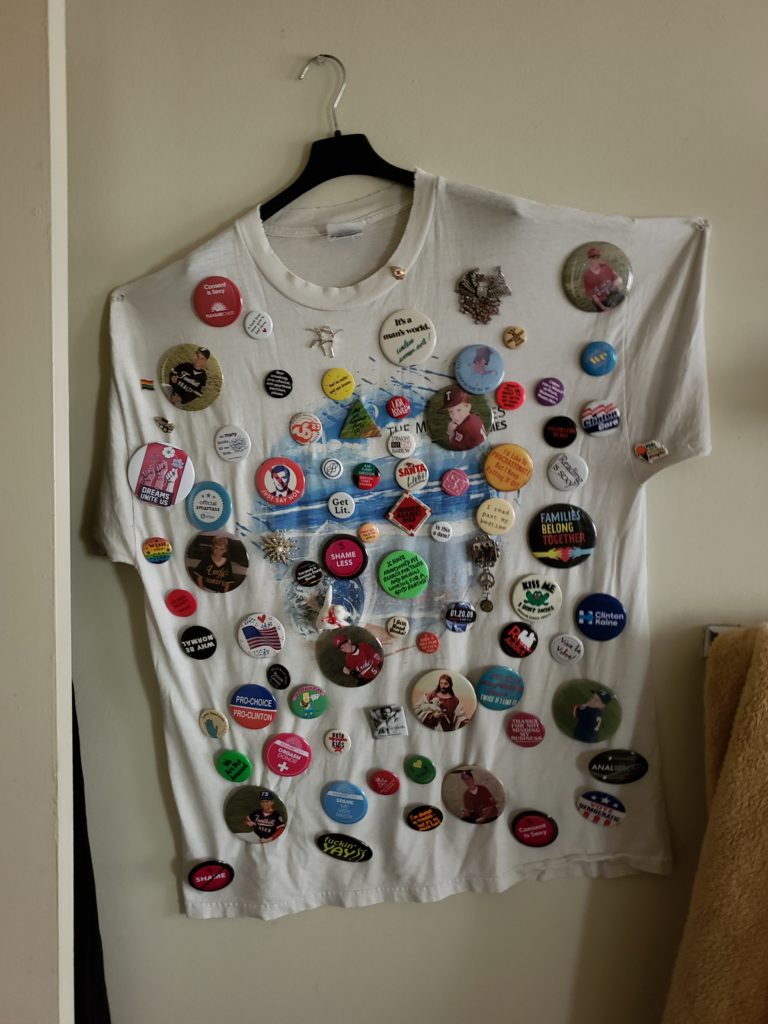 Now, on my Moody Blue Strange Times T-shirt, I have room for Jesus, and the other buttons I'm keeping. And for new buttons, new ideas, to find a home.
Six years ago this month one of my best friends, Sidney Patrick, died unexpectedly. Another indirect casualty of loving a hoarder or two.  Sid was much on my mind as I sorted. I thought about how hoarders and their loved ones are emotionally (and sometimes physically) crushed by the weight of all the THINGS being held onto, long past usefulness. How much time, energy, and effort do we put into caring for possessions that no longer speak to us or give us joy? And why do we do this to ourselves?
I definitely need to make purging a more regular part of my self-care routine.
How about you? Do you collect buttons or bumper stickers? What are your personal favorites, either of mine, or from your own collection?