"I have just finished Five Minute Love Stories with a smile on my face."—Goodreads review

---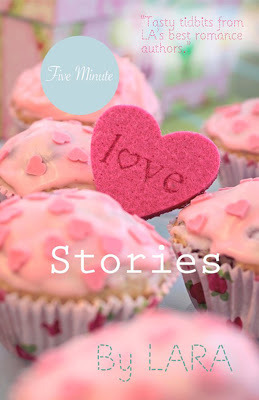 Five Minute Love Stories is the first anthology I've been published in (as in, available on Amazon, published). I'm really proud of it; there are almost two dozen sweet, steamy, poignant, and funny stories in here, everything from a soldier's dramatic homecoming to a brother who can't abandon his tag-along little sister. Hot Egyptian warriors. Time-travelers. Giraffes. Proposal Cakes. Matchmaking dogs.
It's like a book full of mini-cupcakes, stories just the perfect size to nibble on a coffee break.
But here's the thing. This was a project of Los Angeles Romance Authors (LARA). When the organizers (not me, for this one) started talking about us doing a group anthology, one of the erotica writers raised her hand. "Any limit to heat level?"
When the organizers said Nope, any heat level acceptable, a pleased murmur went around the room. I sat there thinking, "Challenge accepted" and decided to write the steamiest, most explicit story in only 1500 words I could.
And then… when Five Minute Love Stories was released, it needed a content warning. For my story, "Emergency Stop" – and only my story. Nobody else submitted a scorcher, though the collection includes excellent stories by best-selling authors like Samanthe Beck and Veronica Scott. Awkward!
This taught me that, should I ever take over the project of coordinating an anthology, to make sure to specify heat level range, in advance.