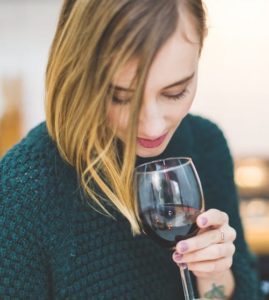 This story, written for a prompt, had a 400-word limit.
Virginia retreated to the ladies' room to sort out her feelings.
Matt seemed nice. So had Frank.
He'd been punctual. Bought her coffee. Frank was generous. At first.
He talked warmly about his dog, and his nephews and nieces. Children and animals usually adored Frank. So much for "Animals and children always know."
Matt was responsive to her remarks, talking, but not monopolizing their chat. Frank had seemed riveted, initially. Later, he shut down her attempts at conversation, felt threatened by her friends, her job, her ex-boyfriends… Gradually without realizing it, she isolated herself from almost every outside connection.
Feeling panic creep up on her, Virginia took several deep, cleansing breaths.
Matt wasn't as handsome as Frank. Point in his favor.
They'd disagreed – slightly – about politics. He didn't try to browbeat me into accepting his point of view.
A stunningly beautiful woman had strutted into the coffeeshop, and though Matt's eyes flickered to her momentarily, they returned quickly to Virginia's face.
She peeked out of the restroom door. Matt waited patiently for her. Not texting or reading his e-mail.
When Virginia returned to the table, Matt's face lit up. "I thought maybe you didn't like me after all, that you'd escaped out the back door," he joked.
"I'm sorry I took so long," she apologized, but he waved it away.
"It's been a long time since you've dated, hasn't it?" Matt asked gently.
Virginia fought back tears – of relief or shame, she couldn't tell. "Yes," she finally managed.
"I appreciate that you didn't sit here reciting a laundry list of everything wrong with your ex – and frankly, I don't want to hear it now. Bet you've got some wicked battle scars, huh?"
She nodded.
"Me too. I really enjoyed meeting you, Virginia, and I'd like to see you again. There's a concert at the Bowl in two weeks," he named a band she'd always loved. "Already have the tickets, and I'd like you to be my date. Interested?"
A risk, but wasn't everything? Couldn't she trust that this time, she'd see the warning signs and get out, if she needed to? Have faith in herself?
She had left Frank, despite too many years of believing it was all her fault. I am strong. I am smart. I am brave.
And… I like Matt. Virginia smiled with surprisingly heartfelt pleasure. "Yes, please, Matt," she said. "I'd like that, too."