"…everything I want in a book: Fantastic stories, alternative history, a bit of time travel, noble rakes … and a sprinkle of magic!: —Goodreads review of Rejoice and Resist
---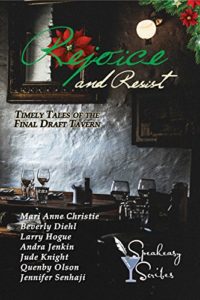 One of the best thing about the Internet is it helps connect us with amazing people we might never cross paths with, in our daily lives. The Speakeasy Scribes developed a group project of related stories with a common theme – #resist. Resist political oppression, resist preconceived notions of what women and men should do, resist poverty and despair. The result is Rejoice and Resist: Timely Tales of the Final Draft Tavern.
My own story, "The Times They Are A-Changin'," is set in 1969 Boston. I did massive amounts of research, and still struggled to find information I had wanted to use. Like, how much would a beer in The Final Draft Tavern cost? (Still don't know.) But a hamburger was around 25 cents, and an abortion – which was illegal, then – about $1,000.00. It was a year where so much happened: Nixon was inaugurated, the Stonewall riots (gay rights) happened, American astronauts walked on the Moon, and there was a little music festival called Woodstock. And the first version of what would become the feminist health "Bible," Our Bodies, Ourselves, was drafted.
In the midst of this, I have twin sisters with very different personalities, learning to work together to save the family tavern.

 From our blurb:
Enjoy a drink in the Final Draft Tavern. Will you emerge in your own time? Or another?
The Marchand family and their cat, Whiskey, guide rebels and dissenters, heroes and villains, artists and lovers backward and forward through time.
Seven short stories of drama, women's fiction, historical fiction, time travel, paranormal, and romance unite our characters in resistance to tyranny and celebration of the right to speak truth to power.
Buy the book and prepare to be transported.