While I've read my work in public before, it's never been at an actual book signing. And never in an actual bra store.
Jenette's supplied an amazing location, helpful staff, delicious and adorable cupcakes with pink ribbons on them from Dot's and pink champagne. Which I swore I took a picture of, but cannot find on my phone. ?
I did put on a shirt before I left the apartment. And kept it on through the reading. And then… unleash the boobs!
I was blessed and honored to have so many wonderful friends come out to support me for this event. But then, that's the way my whole journey has been, filled with incredible people and a whole network of love.
Of course, like always, I am missing some pictures of some very important people. But here's a few of them.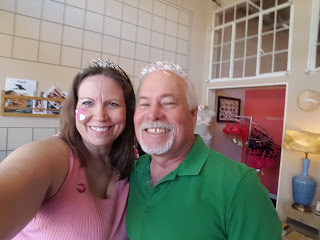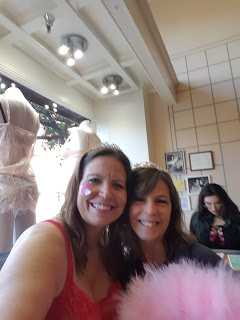 My dear friend Cassie who couldn't attend, suggested I Facebook live it. One more thing I'd never done before – why not?
So I signed books – with a pink pen, of course! and chatted and enjoyed the yummies. And then I read a selection from the first chapter.
I didn't have something to hold the phone/camera up, so Jenette's staff came to the rescue – again. However, I am going to learn how to do the thing, so the audio is better next time.
Then on the very next night, I joined in a Facebook author party with my friends and collaborators, the Speakeasy Scribes. Again, super nervous, totally a virgin – but I think I did okay. I got new newsletter subscribers anyway (have you signed up? top right of this page) and I actually sent out a newsletter this month. I might even do another one, sometimes before the end of the year.
With my scribes, I was promoting this holidayish anthology.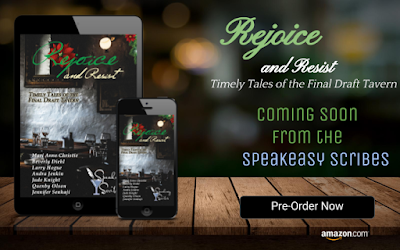 And you can now get a paperback of Sex, Drugs, Rock 'N Roll, and a Tiara: How I Celebrated Kicking Cancer's Ass via Amazon and Barnes & Noble, and e-books (which are better, IMO) just about everywhere.
So, this author thing. When do I get to go back to writing stories? Soon, grasshopper, soon.
Have you done anything new and terrifying lately?
Would you read your book in a bra (and nothing else on top)?